As summer makes it way towards the other half of the hemisphere, our summer gardens evolve into a less producing field. That means it is time to start saving seeds from our tomatoes, cucumbers, peppers, squashes, melons, and anything else you might have grown. (Honestly, seed saving should have begun with the first summer harvest.)
With the 2013 Jacksonville Seed Swap & Garden Expo coming around the corner, this is the exact time to be thinking ahead on what seeds to save and swap out at the Expo.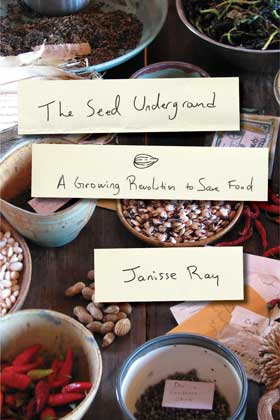 Janisse Ray, author of The Seed Underground: A Growing Revolution to Save Food explains that seed savers are stubborn and passionate people. In this book, you will join Janisse Ray as she meets seed savers all over the U.S., and hear stories of heirlooms like Candy Roaster squash and Running Conch cowpea – varieties that will be lost if we fail to save and share the seeds. Reviews from Publisher Weekly states "
Despite the book's occasional tendency toward polemic, avid gardeners will relish recognizing their idiosyncratic, revolutionary sides in its pages, and it's likely to strike a spark in gardening novices. Even couch potatoes will be enthralled by Ray's intimate, poetically conversational stories of her encounters with the "lovely, whimsical, and soulful things [that] happen in a garden, leaving a gardener giddy.""

If you are interested in purchasing the book, please visit the Southern Exposure Seed Exchange.
Remember:
If left to themselves, these fleshy fruits and veggies would
undoubtedly
fall into the soil, where some of their seeds would sprout when spring arrives again. Nevertheless, saving seeds for the expo brings a sense of unity and fellowship. Together we can share our personal stories and give to others what we experienced in our own garden.
See you all at the Expo on November 23, 2013!!