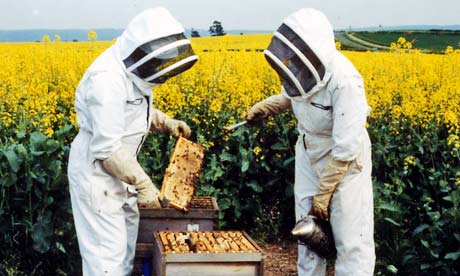 Jacksonville BeeKeepers Association is offering a beginners beekeeping short course to anyone interested. The course will be held
Saturday, April 27, 2013
. The course will be held at the Duval County Extension Offices located at: 1010 N. McDuff Avenue, Jacksonville Florida 32254.
Pre- registration is requested no later than April 20th. $15 for single registration and $20 for couple registration to help cover the cost of supplies.
It will be a hands-on short course, where participants will be involved with a working hive at the Urban Garden. It should allow the participant to decide if this is something they really want to do. For others, it offers an excellent opportunity to learn about this very interesting/useful, often misunderstood insect
so important to our food supply.
Over the last decade, local honey bee colonies have had a major problem and are declining due to pest and diseases. This has led to serious pollination problems and the need to introduce more managed hives into our county.You can become part of the solution to our sparse pollination problem by becoming
a hobby beekeeper.
For more information please contact:
Karen: 312-3175, Catherine 610-7505,Jim 304-5800,
or Kent 768-3484.
BECAUSE THIS ACTIVITY INVOLVES DIRECT CONTACT WITH STINGING INSECTS, NO CHILDREN WILL BE ALLOWED INTO THE OPEN HIVE SESSION.